---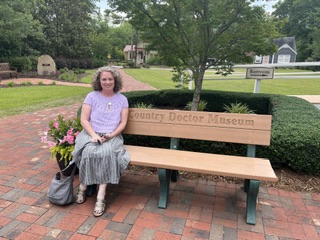 Happy Summer!
Last week I had a dear friend and colleague visiting and we found our way to this interesting museum. (Photo above) The Country Doctor Museum. There is a small medicine garden and three historic buildings with informative displays (including live leeches). It brought a smile to my lips to see the herbal tonic for menstruating women included many of the same herbs we use to this day.
What have you been up to???
Let's catch up on some of my thoughts about summer and learn a little more about natural health. Topics for today:
Camping
Classes
Courage
Crafting
If it's been awhile since your last energy assessment, you can make an appointment here:
Many times I am asked for a good multi-vitamin/superfood supplement. I am having good results with IntraMax which you can order yourself by clicking here IntraMax and entering my Practitioner Account Code (PAC) = STE6677
...